---
James Richardson as Randy Meisner/Timothy B. Schmit (Bass, vocals)
---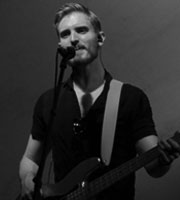 Richardson grew up in Milford, Mich., a village west of Detroit. He began singing three-part harmony and playing acoustic music in a folk and bluegrass trio with his twin brother, Shaun, and his cousin, Carmen. They were known as Cats and the Fiddler and entertained throughout the Midwest for nearly 15 years. Growing up, he remembers being introduced to the discography of the Eagles by his Uncle Vince at summer family get-togethers.
As a teenager, Richardson began to fall in love with jazz harmony and vocal improvisation. Obtaining a bachelor's in jazz studies at Western Michigan University, he has immense experience as a multi-talented vocalist, performing with notable artists Deborah Brown, Randy Brecker, Chico Pinheiro, and Ben Folds (of Ben Folds Five) with the Detroit Symphony Orchestra.
Moreover, his vocal jazz stylings have been recognized by Downbeat Magazine in 2016 and 2017 and the Nashville Industry Music Awards (NIMA) in 2020. In 2019, Richardson joined Nashville's cutting-edge contemporary choral group, SONUS, featured alongside Audrey Assad and Dave Barnes at the historic Ryman Auditorium.
When Richardson is not on the road, he loves to arrange and publish a cappella vocal arrangements from a wide variety of jazz, pop, and choral music. Renowned British composer Jacob Collier has lauded Richardson as "inventive and agile," and American voice actor Gabe Kunda as "fresh ear-candy." They are just two of the musicians that have noticed his unique ear for adventurous vocal harmony.
Richardson is poised to become one of 2022's in–demand young musicians who New York Voices founder Peter Eldridge describes as "one of those rare people who has it all going on–talent beyond measure, a uniquely compelling vocal sound, [and] an openness and creativity weaving through his singing and songwriting."