---
Jim Witter
---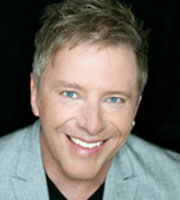 It started in the living room of his family home in the late 1960s. Jim Witter's mom discovered that her boy not only loved to sing, but he was pretty good at it for a four-year-old. With his mom on the piano, Witter would belt out the Beatles' Yesterday for just about anyone who would lend an ear. "I remember clearly singing for the mailman," Witter recalls. "What he was doing in our living room, I'll never know," he jokes.
But for that young boy from Hamilton, Ontario, Canada, music was never a joke.
"I was always very serious about making music my life long career," he remarks. "Even when I was very young, I knew in my heart it was all I ever wanted to do."
After high school, Witter began performing nightly in a local piano bar where he learned the tools of the trade when it came to entertaining. His sincere and warm rapport with an audience began in those smoky bars as he belted out songs by artists like Elton John, Billy Joel, The Beatles, and many others. During the day he would write and record original songs, which eventually caught the attention of Sony Music Publishing in Canada. He signed a deal with Sony which spawned a record deal, and his first original album which was released in 1993 to rave reviews and multiple hits on country radio in Canada. A few years later, Witter signed a major record deal with Curb Records in Nashville, home to Tim McGraw, Wynonna Judd, and Leanne Rimes. "I loved making records and touring and it was then that my wife, Rebecca, and I were also raising four children. That was tough," he recalls.
In the early 2000s, Witter created a show that would harken back to his days in the piano bars, only this show was destined to be performed in a theatre setting. The Piano Men was a multi-media musical trip back to the 70s, featuring the hits of Billy Joel and Elton John. Witter and his incredible band perform masterful recreations of these two artists' songs, all the while accompanied by a stunning visual presentation that takes the audience back to that incredible decade. That show was so successful that theatres asked Witter if he could produce other shows that featured other artists and decades with the same nostalgic and heartwarming flair. Feelin' Groovy-the 60's and the music of Simon and Garfunkel, and The Long and Winding Road–The music of Lennon and McCartney and the Stories Behind the Songs are just a few of the follow up smash hit shows that Witter has produced over the past 20 years. "This great music of the '60s, '70s and '80s shows no signs of losing its popularity," Witter points out. "If anything, people are becoming more nostalgic for those simpler times…no computers, no cell phones, no social media…music was a bigger part of everyone's lives back then."
Now in his 22nd year of touring these nostalgic shows, Witter says that he enjoys performing more than ever. "Now that my children are pretty much all grown up, sometimes they join me on the road and perform with me on stage. My daughter even just signed her first record deal herself, so I'll be spending some time on the road with her over the next while too," he says. "I'm just blessed and very fortunate to be where I am in my life and to still be making a living doing what I love most."