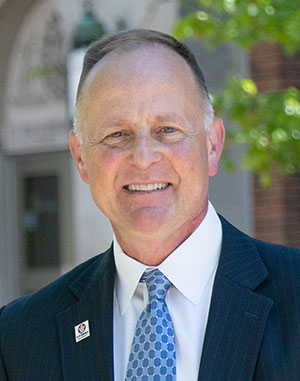 Dear Arts Supporters,
On behalf of everyone at ­Viterbo University, I would like to welcome you to the Fine Arts Center as we celebrate the return of in-person performances. The pandemic necessitated a year and a half-long pause in our live event schedule, and both our artists and audience members have been sorely missed. It is truly great to have you with us.
It's only fitting that the Fine Arts Center should be fully used to its intended purpose during its 50th anniversary year. Opened in 1971, it remains not only the premier arts facility in the region, but also a wonderful testament to the vision and courage of the Franciscan Sisters of Perpetual Adoration who made it possible. Their collective love and appreciation for the arts led to countless cultural opportunities in the greater La Crosse community and has enhanced all our lives.
New Fine Arts Center director Dillion McArdle and his staff have an outstanding season planned for you this year. I invite you to pick up an On Stage book or visit the Viterbo website for the complete schedule. There is a wide variety of offerings from which to choose, and tickets make wonderful gifts. Included in the schedule are the Conservatory for the Performing Arts student productions. I am continually amazed at the incredible talent of our students, and seeing them put it to use always fills me with pride, no matter their role, pursuit, or field of study.
While live performances and other events have returned, we must remain vigilant in the fight against the spread of COVID-19. I ask that you adhere to the university's safety policies, including remaining masked while anywhere inside the building.
The arts will always be an integral part of the Viterbo University experience, which is made even more special through the support of our patrons, benefactors, sponsors, and volunteers. It would not be the same without you. Thank you.


Rick Trietley, Interim President
A comedy about death in the middle of a pandemic? Perfect! Because invariably you can't talk about death without talking about life, and what it means to be alive. In many ways these past two years, we have come to understand the precariousness of life in a way familiar to the people of medieval Europe, which is when the original version of this play, Everyman, was first presented in around 1510. Individuals at that time, gathered together to watch plays about life, death, and morality created by the Church much as we gather today to examine and seek understanding of the human experience.
Branden Jacobs-Jenkins' reframing of this classic piece is told in the same manner as the original, using allegorical characters to examine the question of existence and what a person must do to attain peace with the fact that they are dying. Though the Catholic origins of Everyman, differs from the more secular views in Everybody, the fact that that we will, in one way or another, come to an end remains the same.
Everybody does this with a great sense of humor and a vivid theatricality making it all the richer for the theatre company and audiences alike. We thank you for coming to this play and for joining us in our examination of ourselves. As ultimately, in order to accept our deaths, we must accept the notion that we are not an "isolated thing trapped inside its isolated self," to quote the play, but rather we are one part of a whole. Just like the characters of the Somebodies in this play; they are all interconnected. The fate of one of them in the lottery each night will affect the fate of all of them. A concept that is helpful for us to recognize and reflect on within our own lives as well.
Sincerely,
Teddy Eck – Director of Everybody
La Danse Macabre (The Dance of Death) is a medieval motif portraying skeletons dancing around people of all walks of life. La Danse Macabre was used to illustrate that no matter who you were—nobility, merchant, peasant, child—your death was inevitable and unforeseeable. The images usually appeared in churches and graveyards in a comic strip like manner. Each person accompanied by death declined in nobility as the reader went from left to right. The most well-known productions of La Danse Macabre are by artist Hans Holbein.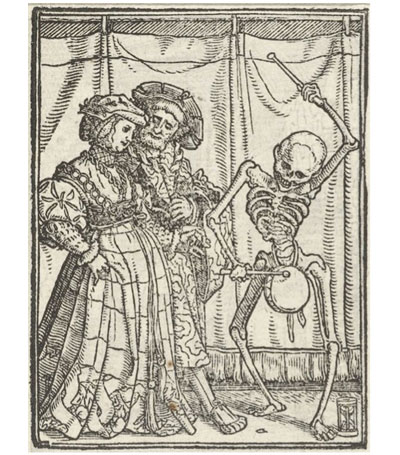 Why does Jacobs-Jenkins add this? Everybody's theme in the simplest terms is everybody dies, and that is the exact message behind La Danse Macabre. No matter what social station you are, Death is the great equalizer. La Danse Macabre serves as a transition for everybody from denial to acceptance of their death. It also serves as a clever nod to the medieval period, in which the original Everyman was written.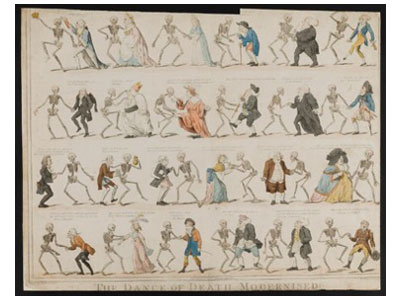 In reality, but then again, it depends on how you define what is "real."
Here Beginneth a Treatise on How Someone or Something—God?—Sendeth Death To Summon Every Creature To Come And Account For Their Lives In The World, Presented In The Manner Of A Morality Play
The Summoning
"And That's When I Woke Up..."
A Chorus
Friendship
"This Is A Dream?"
A Chorus
Family
"I'm Sorry I Just Have To Say Something"
A Chorus
Stuff
"You Know What? Fuck You!"
La Danse Macabre
The Journey
Director: Teddy Eck
Assistant Director: Mitchell Shaw
Stage Manager: Emmett Lenselink
Lighting Designer: Frank Ludwig
Sound Designer: Douglas P. Wilken
Technical Director: Chad Kolbe
Scenic Painter: Frank Ludwig, Company of Everybody
Choreographers Yasmine Bonner, Joselyn Terry
Dance Captain: Katie Wall
Scenic Designer: Mitchell Shaw, Grant Barclay
Costume Designer: Jen Brown
Costume Shop Supervisor: Alex Bell
Wig Master: Logan Bailey
Properties Design/Master: Lauren Canfield
Light Board Operator: JaymeAnn Olsen
Sound Board Operator: Spencer Curtis
Run Crew:Morgi Miller, Virginia Foshee
Hair/Makeup/Wardrobe Crew: Clay Corley, Kjersten Danzig
Scenic Construction: JaymeAnn Olsen, Ryan Dettbarn, Aren Alexander-Battee, Jake Aune, Hazel Chaudoir, Jo Kasper, Vougard Latoja, Pat Rivera Torres, Katie Schafer, Shannon Starkloff, Mitchell Shaw, Evan Schmit
Wardrobe Construction: Beth Anderson, MeiSi Chang, Kalyn Schmit, Zachary Sullivan, Elisabeth Meyer, Logan Jancsurak, Grant Barclay
Properties Construction: Kaitlyn Franz, Rachael Armstrong, Grace Reynolds, Grace Pena, Megan Wheelock, Will Handrick, Clay Corley, Elizabeth Meyer
Work Study: Anika Philips, Emma Phillips, Joie Steele, Spencer Curtis, Sophie La Fave, Grace Pena, Iraya Catalina Cress, Adelaide Young, Mikala Clark
---
Playwright
---
Branden Jacobs–Jenkins
is an award-winning playwright. His plays
Appropriate
(2013) and
An Octoroon
(2014) won the Obie Awards for Best New American Play.
Everybody
was a finalist nominee for the 2018 Pulitzer Prize for Drama.
Jacobs-Jenkins attended Princeton University, graduating with a degree in anthropology in 2006. In 2007, he graduated with a master's in performance studies from NYU. During this time, he worked as an editorial assistant for The New Yorker and wrote his debut play, Neighbors.
Jacobs-Jenkins then moved on to study in Berlin through the Fulbright Scholarship program where he wrote Appropriate and An Octoroon . He returned to the U.S. to study at Juilliard, worked at NYU as an adjunct, and held residency at the Signature Theatre in NYC, where Everybody (2018) premiered.
Jacobs-Jenkins plays with the racial tropes that often come up in the history of Black theatre, namely minstrelsy. In his play Neighbors (2011), a Black family moves next door to a privileged Black professor, but the family appears in blackface. The loud Black family that moves next door to the perfect mixed race couple; we are seeing the family through their internalized racism. An Octoroon is a parody-like adaptation of a 19th century melodrama. In the play, a Black playwright plays a white slave owner after all the white actors refuse. An Octoroon critiques the use of the mixed race, white passing woman as a scandalous storytelling device while keeping the portrayal of the dark skinned, mammy in melodramatic works. Both of these plays lean into the stereotypes presented about Black people. Everybody focuses on race in a different way than Jacobs-Jenkins' earlier work. His modern adaptation of the medieval Everyman adds dreaminess, a cathartic danse macabre, and...a lottery. Jacobs-Jenkins' more inclusive Everybody makes sure to include ALL bodies, genders, races, and sexualities, which is something we felt was very important to respect in our production. The play was not changed to "Everyone" but, Everybody. The form we take in our lifetime has a direct connection to our experiences in life and also how we will experience death. Fundamentally, Everybody is a play about death and, therefore, a play about life.
---
Understudy
---
Erica Ashley
is a sophomore music theatre major with a minor in finance from Ft Wayne, Ind. At Viterbo, she has been seen at the
Dear Diary
cabaret and the annual sophomore class cabaret. She would like to thank her family and double shot espressos for all their continued support. This is her first play at Viterbo and she hopes you enjoy the show!
---
Somebody
---
Sophia Barbato
is a sophomore music theatre major with a dance minor from North Andover, Mass. She has been seen in Viterbo's
Spooktacular
as a member of Platinum Edition and is so excited to hit the black box in
Everybody
. Sophia would like to thank everyone who ran lines with her and hopes you enjoy the show!
---
Somebody
---
Lauren Bergquist
is a sophomore theatre major from Dubuque, Iowa. At Viterbo, she has been seen as the Steam Shovel Operator in
Elephant's Graveyard
and is thrilled to be back on stage. She would like to thank her family and incredible friends for their unwavering support. Enjoy the show!
---
Somebody
---
Yassie Bonner
is a sophomore music theatre major from Pflugerville, Texas. She has been seen in
Why Love
a cabaret and the Platinum Edition's
Spooktacular
here at Viterbo. She is so excited to be participating in live theatre once again!
Everybody
has been a challenging and exciting show that has reminded her of the joy of collaboration.
---
Understudy
---
Lauren Canfield
is a sophomore music theatre major from Round Rock, Texas. This is her very first production at Viterbo and she is ecstatic to be part of such a fun and collaborative production and hopes you enjoy the show!
---
Girl/Time
---
MeiSi Chang
is a sophomore theatre major with a music minor from Appleton. At Viterbo, she has been in seen in
Lost
and
Elephant's Graveyard
. She would like to give thanks to everyone who made the show possible and to those who came to support the show.
---
Somebody
---
Mikala Clark
is a junior from Waukee, Iowa who is pursuing their theatre degree. Clark has most recently been seen in
In Limbo
(Elizabeth),
Twelfth Night
(Ensemble, u/s Maria), and is looking forward to working on
The Elephant Speaks Jazz
(Puppeteer) later this semester. They want to thank everyone who has loved and supported them into becoming the person and performer they are today!
---
Understudy
---
Anna Martinson
is a sophomore theatre major from Mahtomedi, Minn. At Viterbo, she has been seen as Young Townsperson in
Elephant's Graveyard
. She is happy to be returning to the Viterbo stage and hopes you enjoy the show!
---
Death
---
Lindsey Meath
is a music theatre major from Denton, Texas and has been in the staged reading of
Night Children
at Viterbo University. She would like to thank her friends and family for their support and love! She hopes you enjoy this wild ride of a show.
---
Understudy
---
Erin Milleville
is a senior arts administration major from Madison with minors in theatre and human resource management. Milleville was last seen on stage as part of the male ensemble of
Lysistrata
. She would like to thank her amazing family and cake bosses for their love and support.
---
Love
---
Grace Reynolds
is a junior theatre major from Madison. Viterbo credits include Servant in
Twelfth Night
and Lucius in
Julius Ceasar
. You may have also seen her work in props design on
Lysistrata
and
Julius Caesar
. Thanks to Mom, Dad, Annie, and Gabby for their love and support.
---
Somebody
---
Joselyn Terry
is a junior acting major with a minor in dance. At Viterbo, she has previously been seen in
Elephant's Graveyard
as Ballet Girl. She is excited to be in her first fully produced production at Viterbo and hopes you enjoy the show!
---
Usher/Understanding
---
Katie Wall
is a junior music theatre major with a minor in dance from Charlottesville, Va. You may have previously seen her in the
Never Will I Ever
cabaret with the Student Theatre Project. She would like to thank her parents and the cake bosses for everything.
Biogaphies
Production Team
---
Director
---
Teddy Eck
is excited to be mounting his first directorial project as part of the Viterbo faculty. Prior to moving to La Crosse, Eck served as the theatre and film department chair at Monterey Peninsula College, in California. He has several decades of professional theatre experience working on both coasts in TV, film, commercials, Off-Broadway, LORT Theatre, cruise ships, and more. He would like to thank his family and especially his wife, Leigh, for being such a wonderful partner on this adventure called life!
---
Stage Manager
---
Emmett Lenselink
is a junior theatre major from West Salem. He has been involved in
The Pajama Game
as Deck Chief and stage manager for the production
Night Children
. He was also the set designer for
Julius Ceasar
. Lenselink would like to thank his family and friends for their constant support of him.
---
Lighting Designer
---
Frank Ludwig
has been with Viterbo University since 2006 and is currently serving as the administrative leader of the Conservatory for the Performing Arts. As a professor of theatre and music theatre, he specializes in entertainment design and technology. His scholarship interests have generated several feature articles for
TD&T
, the quarterly journal of United States Institute of Theatre Technology (USITT), examining contemporary challenges and trends in the entertainment industry professional practice and post-secondary training. Ludwig is a member of United Scenic Artist in the set design category and has worked as a professional designer and scenic artist for over 25 years.
---
Assistant Director/Scenic Designer
---
Mitchell Shaw
is a senior from Bemidji, Minn. pursuing music theatre. In previous seasons at Viterbo, Shaw was seen in roles such as Hasler in
The Pajama Game
, Mortimer Mortimer in
Failure: A Love Story
, and Antonio in Shakespeare's
Twelfth Night
. Professionally, Shaw has played Frank Butler in Northern Light Opera Company's production of
Annie Get Your Gun
and Bertram Batram in Paul Bunyan Playhouse's
Young Frankenstein
. Shaw would like to give a special thank you to his support system in Minnesota and his new one, here at Viterbo University.
---
Sound Designer
---
Douglas P. Wilken
earned an MFA in sound design from the University of Cincinnati–College Conservatory of Music and Illinois State University before relocating to La Crosse. He has contributed to numerous productions at Viterbo University, La Crosse Community Theatre, Cincinnati Playhouse in the Park, and Ensemble Theatre Company.
---